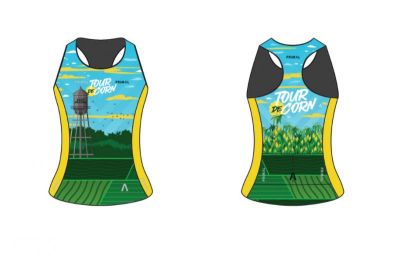 Check out our 2023 Official Tour de Corn t-shirt -- this year in Gildan 2000 "Sand"!  


2023 TOUR DE CORN T-SHIRT PICKUP OPTIONS
You will receive a purchase confirmation email when you submit your order. Once we process and prepare your order, we will send you a separate email/text when your order is ready for pickup -- we're offering two options for pickup this year.
Non-Rider Pickup June 23 or 24:
If you are not riding in Tour de Corn, we will have t-shirt pickup evenings on June 23 and June 24 from 3 p.m. - 7 p.m. at 116 E. Chestnut in East Prairie. (The corner of Chestnut and Lincoln).

Rider Registration Bag (pickup June 23-24):
If you are riding in Tour de Corn, you may choose to put your items in your Rider Bag for pickup during registration packet pickup. (Held on June 23 from 5-8 p.m. at 116 E. Chestnut or the morning of June 24 from 6 a.m. - 7:30 a.m. at the Family Life Center.)
TOUR DE CORN JERSEYS - AVAILABLE FOR ORDER THROUGH APRIL 17!!
You may order the 2023 Tour de Corn Jersey directly from Primal.  They will be shipped to you in June for arrival before this year's ride!  
https://via.primalcustom.com/collections/ts-2345