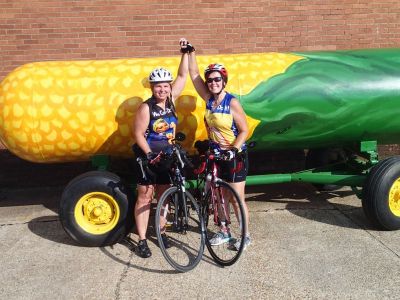 TOUR DE CORN SCHEDULE OF EVENTS
PLEASE NOTE: Dates/Times are subject to change -- this is just to give you a general feeling for the 2023 weekend.

Please watch our Facebook page (@tourdecornmo) and Instagram feed (@tourdecorn) for the latest information.


FRIDAY, JUNE 23, 2023
Rider Packet Pick-up
Location: Tour de Corn Booth at the Main Street Party, (corner of Main Street and S. Washington)
Time: 5 p.m. – 8 p.m.


Main Street Kickoff Party (Hosted by the East Prairie Downtown Revitalization Committee and the East Prairie Chamber of Commerce)
Location: the Downtown Gazebo area (corner of Main Street and S. Washington)
Food, fun and festivities abound!  Enjoy the Main Street Party in downtown East Prairie.  Learn more at: www.epsweetcorn.com
SATURDAY, JUNE 24, 2023
Rider Packet Pickup & Onsite Registration
Location: Family Life Center Parking Lot (322 N. Washington, East Prairie, MO)
Time: 6:30 a.m. - 7:30 a.m. (start of ride) 


Church of God Spaghetti Dinner (Optional and additional charge beyond your registration fee)
Location: Family Life Center
10 a.m. – 3 p.m. (or until spaghetti is gone!)
NOTE: If you pre-order spaghetti but do not return before 3 p.m., the group will make sure to prepare you a to-go plate with all the fixin's.


---
RIDE DETAILS
The Tour de Corn is a ride, not a race. Plan on riding at a rate appropriate to your training and health level.
We appreciate your understanding:
BECAUSE WE ARE A CHARITY ORGANIZATION, THIS YEAR WE CANNOT OFFER REFUNDS OR ROLLOVERS...
RIDE GOES ON RAIN OR SHINE!
Riding Safety:
Our riders', volunteers' and community members' safety is among our top priorities each year.  Extensive SAG service will be provided, including local first responders.  HELMETS ARE REQUIRED FOR ALL RIDERS, INCLUDING CHILDREN IN BUGGIES & BIKE SEATS. Cyclists must obey all traffic rules. A message board will be provided at the Start/Finish Line. Family and friends may post messages.
Type of Terrain/Routes:
The Tour de Corn is flat for most of the ride, especially the shorter routes. Well-marked rural highways. Portions of the Mississippi River Cycling Trail on all routes. Approximate rides of 15-, 30-, 60 or 100!! The 100-mile ride is a great "starter" ride for anyone wanting to do their first Century ride.  Find our Tour de Corn maps and elevations (from previous rides) here.
Route Maps:
We will provide the final official 2023 Tour de Corn Routes closer to spring once post-winter road conditions have been assessed.  Printed route maps will be available at the registration table on the day of the ride. Additionally, we will provide GPS-based maps in June.  Find our 2022 Tour de Corn maps here as a reference point.
Rest Stops:
Rest/snack stops provided on all routes. Some rest stops have indoor bathrooms/running water; the others have portapotties.  All have hospitality out of this world!  This year we will work closely with our local health departments to provide the best possible safety for our riders and volunteers.
Start/Finish Line:
Ride starts and ends in downtown East Prairie at the Family Life Center at 320 Washington. Ample parking and restrooms provided.  Bathrooms with showers will be available at the Family Life Center. Though the facilities are free-of-charge, you must bring your own towel, shower shoes and toiletries.
Rider Guide:
We will provide all registered riders a 2023 Rider Guide via email in late June 2023.  If you have any questions in the meantime, please contact us at info@tourdecorn.com or 888-CORN-030 (888-267-6030).